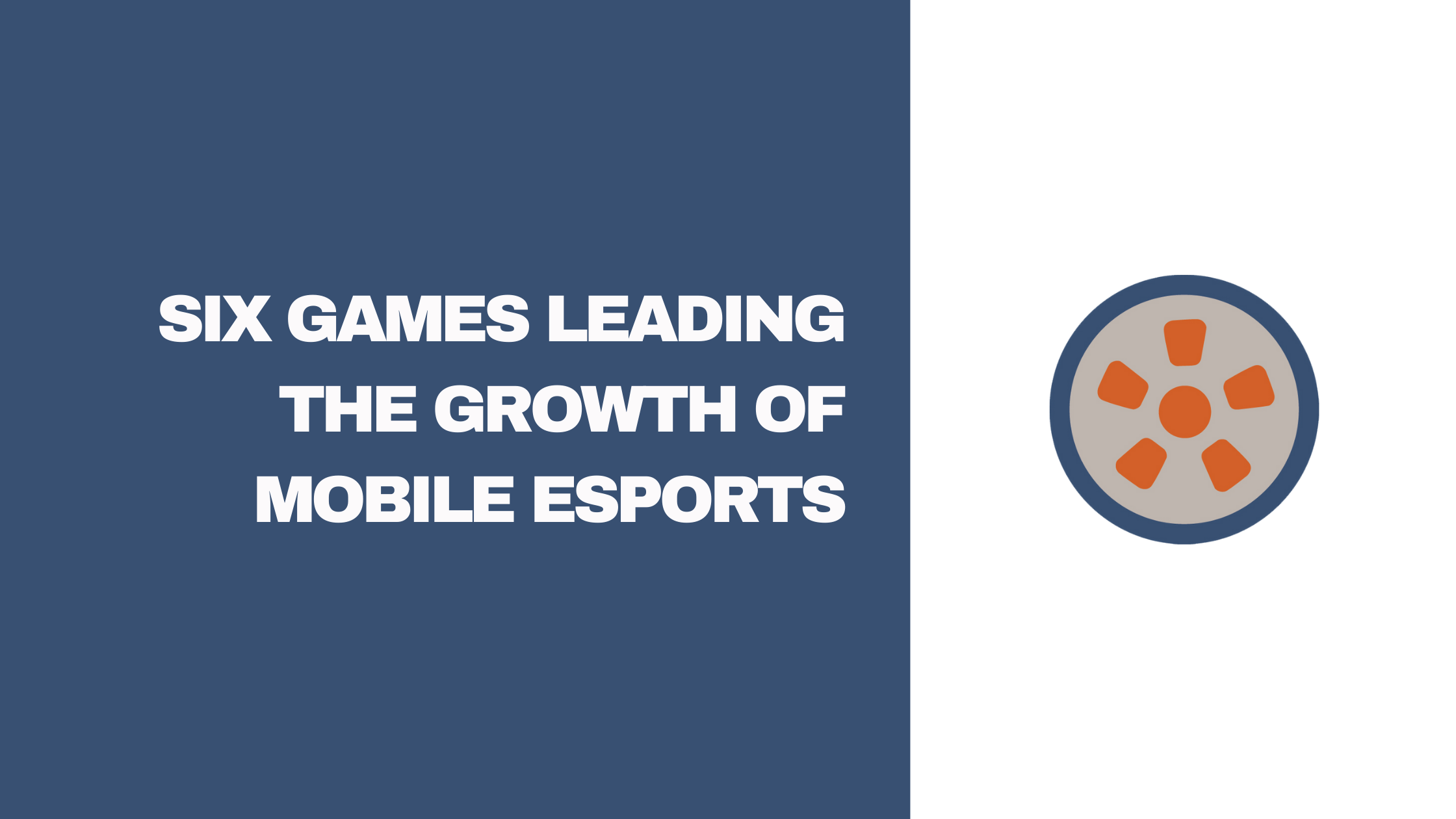 Six Games Leading the Growth of Mobile Esports
Written By: Mark Yasak and Chris Murphy
In mobile esports, players use a mobile device like a tablet or a phone instead of a console or PC. This style of gaming increases player base access across the globe, and recent technological advancements, such as the proliferation of 5G internet, have made gaming on a handheld device a legitimate option for esports players and fans. For example, the ESL recently announced a mobile league covering North America, Europe/MENA, and Asia-Pacific. In China, mobile gaming makes up over half of all esports in the country. 
To stay up to date with all of our esports content and news, click here to subscribe to our Esports Newsletter.
As this wave of growth sweeps across the gaming landscape, mobile publishers are investing more time, money, and energy into making sure their games have the healthy esports ecosystems required to drive continued interest and revenue long after an initial release date. So, which titles stand above the rest and appear poised to dominate esports in the near future? 
PUBG Mobile is the mobile version of PlayerUnknown's Battlegrounds, the popular online multiplayer game that was the first to introduce players to the battle royale format back in 2016. Despite heavy competition and many newcomers in the space, PUBG Mobile remains the most popular mobile battle royale. Available on Android and iOS, PUBG Mobile has been downloaded over 730 million times. PUBG Mobile was one of the highest-grossing games in 2020, generating more than $2.6 billion in revenue. At its peak, the game was bringing in more than $270 million per month.
The game's tournaments boast considerable amounts of prize money, with more than $14 million up for grabs in PUBG Mobile tournaments this year. Competitions for PUBG Mobile take place in 12 different regions around the world, with the best players from each region advancing to compete in a worldwide tournament this summer.
Call of Duty Mobile  While the Call of Duty League on console and PC may be the most recognizable competition for the COD franchise, Call of Duty Mobile has quietly built up an impressive audience over the last several years. Available on Android and iOS, the game produced one of the largest mobile game launches in history by generating over $480 million in revenue and 270 million downloads in its first year.
The competitive scene for the game has grown rapidly, with more than $2 million up for grabs at this year's Call of Duty: Mobile World Championship in June. The Championship, which is presented by Sony, will be open to players across the world. Players who meet the minimum ranked criteria can participate in events and qualify for the regional stages. Sony's newest flagship smartphone, Xperia 1 III, will be the official mobile device of the event. The tournament will be live-streamed on the COD Mobile Esports YouTube channel.
Arena of Valor  Arena of Valor is a 5v5 multiplayer online battle arena (MOBA) designed by Tencent Games and available to users on Android, iOS, and Nintendo Switch. In 2020, the game recorded over 100 million daily users. The Arena of Valor International Championship (AIC), Arena of Valor's biggest tournament, recorded more than 109 million total views last year. The event was live-streamed to fans worldwide through various streaming platforms including YouTube, Facebook, and Valor TV, and commentary was provided in five different languages. AIC 2020 was recognized by YouTube as one of the most-watched live gaming events of 2020 globally, reinforcing Arena of Valor's position as one of the top competitive mobile games.
Garena Free Fire is a mobile title published by Singapore-based Garena in the wildly popular battle royale genre, with up to 50 players dropping into a battleground and fighting until only one champion remains. The title's broad appeal made it the most downloaded game globally in 2019. In May of 2020, Free Fire was averaging 80 million daily players and has grossed over $1 billion within a free-to-play format. 
Piggybacking off this success, the game has wholeheartedly embraced esports, with Garena launching the Free Fire World Series (FFWS) and Free Fire All-Stars competitions. Viewership numbers are staggering across the globe with Brazilian competition in January peaking at 449,565 viewers and Asian Free Fire audiences averaging 828,986 concurrent viewers. Garena has announced plans to release an enhanced version of the game titled Free Fire Max. 
Mobile Legends: Bang Bang or MLBB is a mobile massive online battle arena title developed by Montoon which pits two teams of players, each player controlling a single unique character, against each other on the battlefield in a game of base defense and attack. First released in 2016, the title has seen incredible popularity in Southeast Asia, even being chosen for the first medal event esports competition at the 2019 Southeast Asian Games in the Philippines.
The game hosts the annual Mobile Legends: Bang Bang Southeast Asian Competition and more localized leagues such as the Mobile Legends: Bang Bang Professional League. In 2019, the first Mobile Legends: Bang Bang World Championship took place, with 16 teams fighting for a prize pool of $250,000. 
Hearthstone is a free-to-play mobile online collectible card game created by Blizzard Entertainment and first released in 2014. Building off the success and established base of the Warcraft series, this title borrows the same universe to offer a turn-based, two-person game using decks of 30 cards and an additional selected hero with unique powers. 
The title earns nearly $40 million per month and has long surpassed the 100 million player mark. The game supports a thriving esports ecosystem with an annual Hearthstone World Championship and a Hearthstone World Tour featuring four three-month seasons and over $1 million in prize money. The 2020 Hearthstone World Champion winner, Kenta "Glory" Sato, took home $200,000.
For additional information on KemperLesnik and recommendations for your brand, please email info@kemperlesnik.com