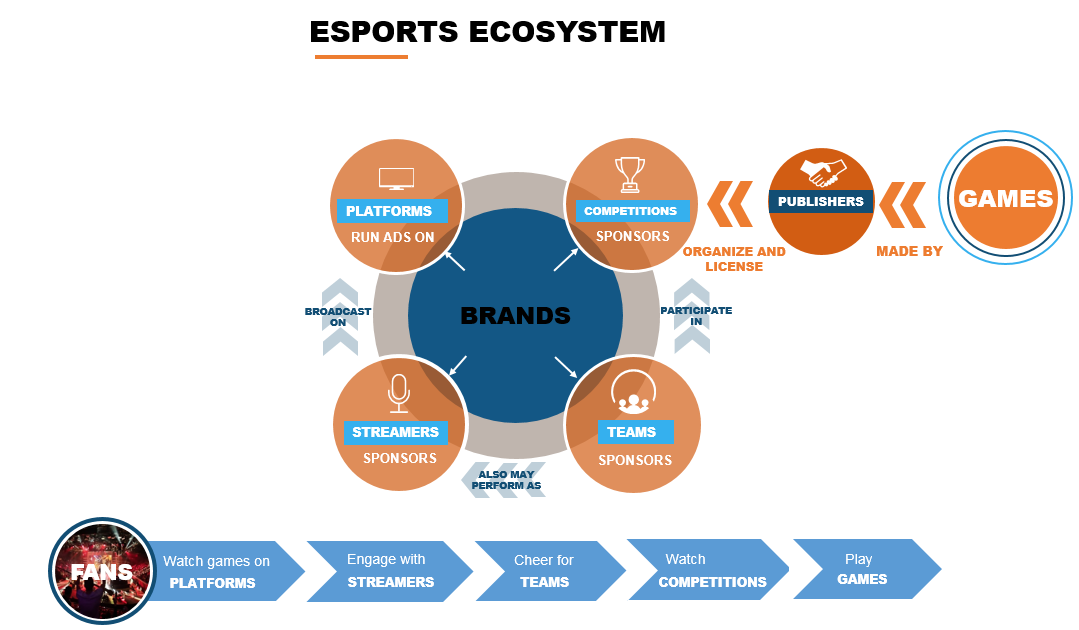 The Esports Ecosystem Part 6: Fans
Written By: Hauk Nelson
To stay up to date with all of our esports content and news, click here to subscribe to our Esports Newsletter.
This article is the sixth in a series designed to educate on the many parts of the esports ecosystem. This article will cover esports fans. For the fifth article, covering game developers, click here. To start at the beginning of this series, with esports platforms, click here. 
Brands are struggling to find ways to connect with their target customers. Less people are watching live television, particularly younger viewers. As Millennials and Gen Z enter the workforce and become the biggest share of spending, brands have turned to esports as a way to resonate with their increasingly hard to reach target market. This article will cover who watches esports, the motivations behind esports fandom and how brands can connect with esports fans.
Who Watches Esports?
There is no "one size fits all" esports fan. Some only watch one game or genre, while others will follow an esports team such as Cloud 9 in any game they compete in. On average, fans follow two esport games, while the esports ecosystem consists of over a dozen titles. Twitch reports its average esports fan is 27, yet 63% of Fortnite players (over 18) are between the ages of 18-24. While esports vary drastically, there's one thing for certain – esports fans are digital natives. According to a report by Goldman Sachs, 80% of esports are watched digitally on platforms such as Twitch and YouTube. This is in direct contrast to sports fans, where only 20% of fans watch digitally. 
This high share of digital viewership ties directly into cord cutters and cord nevers, those who have cancelled cable subscriptions and those who've never had one. Variety reports that by the end of 2019, 34% of American households won't have a traditional TV subscription. Esports fans not only avoid traditional mediums of entertainment, they also eschew traditional entertainment. A Newzoo report indicates that baseball, America's pastime, is just as popular among men aged 21-34 as esports. Esports reflects a larger trend of people moving to digital and the decline in once popular entertainment such as baseball.
source: Newzoo
With an estimated 20 million American esports fans, other traditional sports are not faring much better. Roughly 55% of esports fans don't watch the NFL and 50% don't watch the NBA, according to Newzoo. It's not that esports fans are disinterested in competition in general, esports is resonating with a new market in a familiar way. The same community based, competitive engagement that has driven sports fandom for years has finally taken hold in an underserved market. 
Motivation to Watch
Esports fans tune in to competitions for a variety of reasons. Many have a favorite team or player. Often, if a team's brand resonates with a fan in one game, it transfers over to other games. As an example, a fan of Cloud 9's League of Legends team is more likely to support Cloud 9's teams in other games, such as Fortnite or Counterstrike. Fans may also follow a certain player, such as League of Legends star Doublelift, to whatever team he is on. Counter Logic Gaming (CLG), the team where Doublelift got his start, lost many fans when he left for Team SoloMid (TSM), and this repeated when he left for his current team, Team Liquid.
Fans support teams and players based on personality and skill. A viewer may feel a connection to 100 Thieves based on their brand's personality – a mixture of fashion, music and more, that cultivates in a fandom more similar to a lifestyle brand than a sports team. Others will support Team Liquid for being the most dominant League of Legends team in North America, or for Cloud 9's history of investing in the next generation of esports talent. Once an esports team successfully turns a viewer into a fan, the reward can be immense. Puma's sponsorship of Cloud 9 generated 73% positive sentiment on social media, 700% higher than the sports norm.
Midgame, an esports performance analytics platform, conducted a survey of college students involved in esports at their schools. More than half of college students that participated in their school's esports club/program were studying STEM fields. Students also cited the ability to compete and represent their school and the community as key reasons they enjoyed their esports program. Despite being a different medium, esports resonates with students in a way quite similar to traditional sports. At the core of esports fandom is community, competition and aspiration, just like in basketball, football or any other sport. 
Brands
To tap into esports fandom, brands must assess their strengths and weaknesses. Mastercard, who sponsors global League of Legends events, has done an excellent job knowing who they are. As Brian Lancey, VP and global head of sponsorships said, "We're a financial institution … we're not a Nike, we're not a Red Bull — we're not a really cool brand." Mastercard hasn't tried to change its branding or messaging in order to appease esports fans. By handing out gifts to top League of Legends influencers, and being transparent about its advertising, Mastercard found more success in its five day campaign for World's 2018 than it's had for some five week long campaigns. The brand's approach is no different than their approach to traditional sports. Lancey further explains, "If you think about esports no differently than you do sports as a whole, then the model works." 
The same holds true for brands such as Puma. The athletic apparel brand's messaging, success in performance and increase in ability, holds just as true in sports as it does esports. Wendy's, a brand notorious for its sarcastic, hilarious online presence activated within esports by broadcasting itself on Twitch destroying restaurants in Fortnite. By keeping true to its brand values, and not changing itself for esports (which fans will spot a mile away), brands will earn the trust of esports fans and tap into the rapidly growing market. 
In order to succeed in esports, a brand must understand that esports fans are not all the same. Each game has its own culture and values that don't always transfer to other games. If a brand maintains its core messaging and is transparent with its advertising, it can bring value to esports fans. By treating the audience just like any other audience and avoiding blatant pandering, a brand can establish itself in esports early, and reap the benefits for years to come. 
To stay up to date with all of our esports content and news, click here to subscribe to our Esports Newsletter.