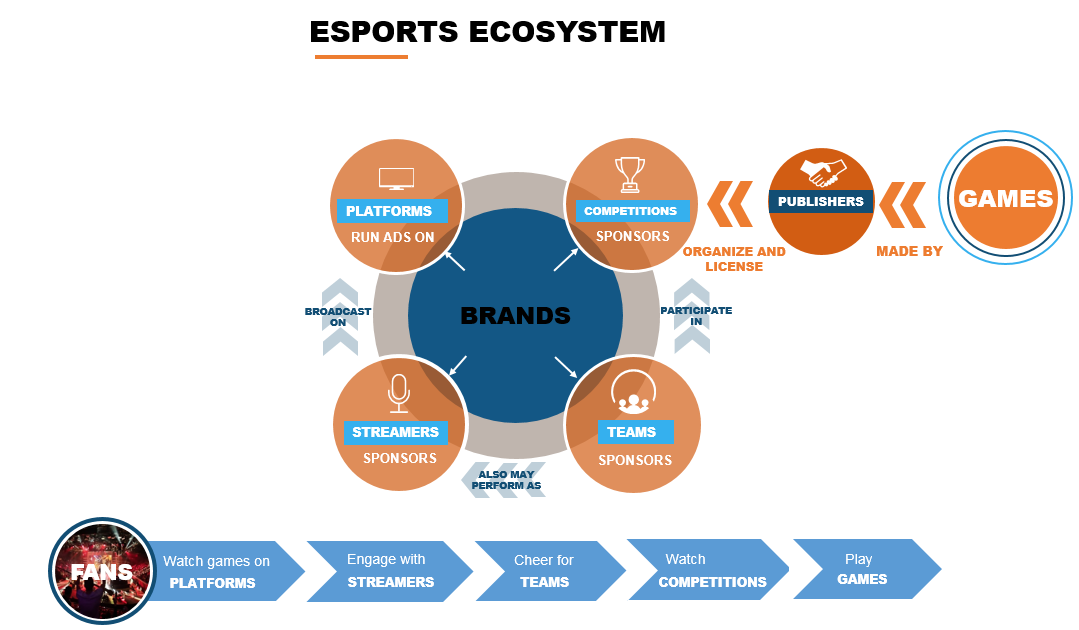 The Esports Ecosystem Part 1: Platforms
Written By: Hauk Nelson
This article is the first in a series designed to educate on the many parts of the esports ecosystem. This article will cover digital platforms where esports fans watch content. For the next article, covering esports competitions, click here.
In the world of esports, online broadcasting–also known as streaming–reigns supreme. One of the reasons why esports is so valuable is that it captivates a hard to reach demographic. College students, recent graduates and young people of today are watching far less television than previous generations, becoming known as cord cutters or cord nevers. In a recent report by Goldman Sachs, it was revealed that 80% of esports content is consumed digitally, while only 20% of traditional sports are consumed digitally.
The primary platform for streaming esports content is Twitch, which was acquired by Amazon in 2014 for $970 million. If Twitch is the new television, then streamers and organizations are the new broadcast stations. Each broadcast, be it a professional, large-scale esports tournament, or a lone gamer in their room, has their own channel. Anyone can create their own channel – it costs nothing, though investments into quality production, including a high-definition camera, microphone, and high-end computer are more likely to get people to stick around or engage. Channels are then searchable by the type of content being streamed, such as the game or genre. 
Photo Credit: The Verge
Streamers broadcast themselves playing games, performing a DJ set, or simply talking, and viewers pour in by the thousands – 9.36 billion hours of content was watched on Twitch in 2018. Fans tune in to watch their favorite personalities, learn how to defeat a hard boss in a game and interact with a like-minded community. The audience engages with one another on Twitch Chat, a live feed where fans comment on the action and interact with both the streamer and fellow audience members–asking for tips, celebrating a big play or making new friends.
Twitch, like most platforms, makes money through advertisements, run before and during a livestream. Streamers even make a cut too, if they're popular enough, with top streamers also having sponsors of their own, such as HyperX, a gaming hardware company, or an energy drink like Red Bull. Fans subscribe to their favorite streamers for $5 a month, gaining access to unique features in Twitch Chat and sometimes private streams. The streamer and Twitch then split the profits, with the streamer gaining a more favorable cut the more popular they are.
Long unopposed, Twitch has recently seen more competition rise in the market. The most notable competition in recent months is the Microsoft-backed Mixer, which signed an exclusive streaming deal with Ninja, arguably the most popular gamer in the world. Other top competitors in the space include YouTube and Caffeine in the West and Huya and Douyu in Asian markets. A common trend for Twitch streamers is to broadcast on Twitch and clip highlights to share on YouTube, dipping into both the live streaming and video-on-demand markets. 
For brands and investors looking to get involved in esports, platforms like Twitch are a necessity. As the primary method of consuming esports and gaming content, brands need to be aware of the most popular games and streamers and what type of content would best represent their brand. The biggest opportunities lie in not sponsoring a big personality like Ninja (think prime time television), but rather in finding a streamer or channel that resonates with their target demographic in a similar way. A streamer that can champion a brand in an authentic way is far more likely to drive results than a blanket call to action.
To stay up to date with all of our esports content and news, click here to subscribe to our Esports Newsletter.