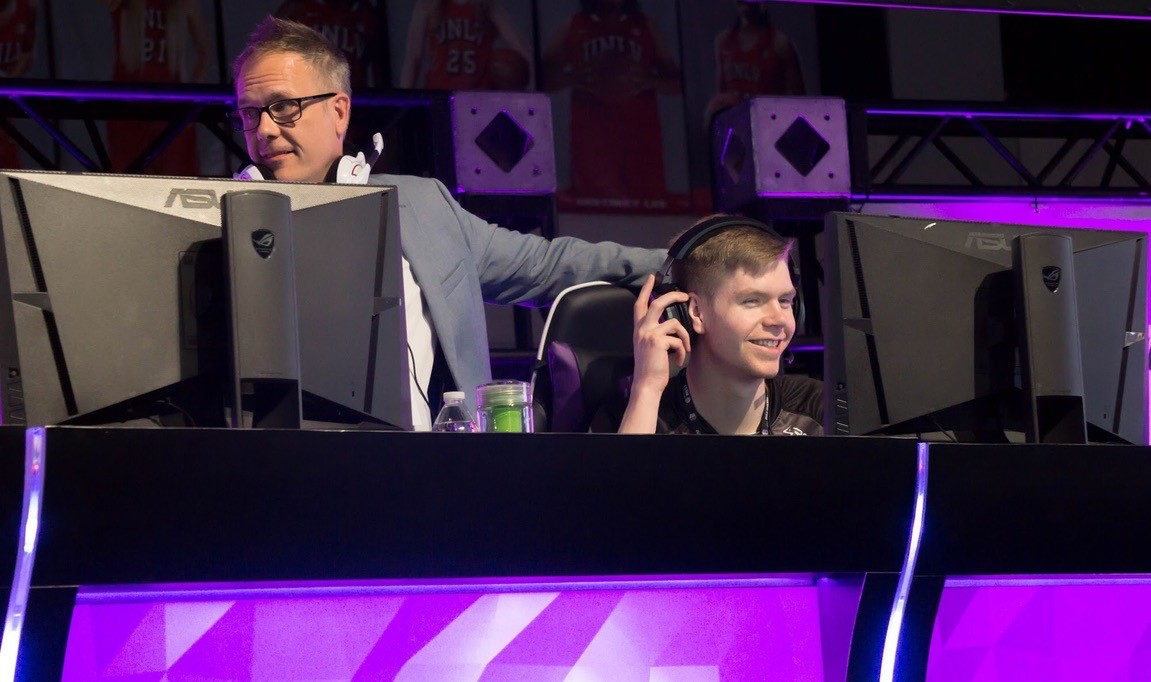 How to Start a College Esports Program
Written By: Hauk Nelson
An Interview with Boise State University Esports Director Doc Haskell
To stay up to date with all of our esports content and news, click here to subscribe to our Esports Newsletter.
Hi there! Would you mind introducing yourself for our readers?
I'm Dr. Chris "Doc" Haskell, an Associate Professor in the College of Education at Boise State University. I've been at BSU for the last fourteen years and taught high school band before that. Educational games and simulations was the teaching specialty during this period. It was in 2017 while researching game clubs and esports for a potential keynote that it became clear collegiate esports was about to explode. 
Kurt Melcher (Robert Morris University,) Kathy Chiang (UC Irvine,)  Mark Deppe (UC Irvine,) and AJ Dimick (University of Utah) all contributed to my rapid understanding of the space. As we like to say – just like the scientist in every disaster movie, we realized this thing was going to hit our campus. We decided to warn the president, and ended up on a rocket with Bruce Willis, in charge of the mission!
How did esports get started at Boise State? Whose idea was it, and how did it get the green light?
It was green-lit because it was the "gold rush moment." The university accepted my prediction that, although there were only about 30 in 2017, there would be 1,000 schools with esports programs within the decade. Fortune favors the bold. 
How long did it take to get Boise State's esports program up and running? What were your initial goals?
Spinning the program up is still in progress. In September of 2017, we had a signature and nothing else. Nobody delivers a program to you, you have to build it yourself. You build it a brick at a time. We played our first games in September 2017 and got our first thirteen machines the following month. In 2018, we secured a sponsor from OMEN, which brought us to a total of forty gaming PCs. We also started broadcasting in 2018 – we started in my tiny office!
We've continued to compete, raise money, broadcast, and expand every month since then. To date, we have secured or contracted over $1.7 million in cash and in-kind contributions for our program. Over $300k of that will be scholarships in the next few years. 
What does a typical day look like for you?
A typical day is atypical! During the season (Sept to Mid-Nov, Jan to late Mar) we are constantly preparing our teams to compete. We're watching VODs, looking for game film, building competition plans and preparing our players and lineups. We are also preparing our broadcast team, researching opponents, building graphics, writing broadcast scripts, crafting story lines and coordinating social media. We run the equivalent of a dedicated esports TV station for our program. It's a daily endeavor. 
We also work with sponsors and partners, developing events and relationships to keep them involved and supporting our students. We're introducing new companies to our program and looking for mutually beneficial relationships. As the director, this is something I'm involved in almost daily. 
Academic success is, of course, also a top priority. We follow our players and students and coordinate with their professors to make sure they are getting a quality academic experience. We're also always recruiting. Zoom calls and campus visits with potential players and their families. Boise State University is always looking ahead to the next generation.
What's your favorite part of working in college esports?
Talent and heart. That's the difference. Lots of talented leaders and thinkers have entered into collegiate esports since we started in 2017. People like Dan Clerke, Callum Fletcher, Chad Smeltz, Joe Gramano, Nick Travis, and others who have been part of professional esports are moving into collegiate full time. They are bringing their gifts to colleges. Likewise, super-smart academic minds are Ashley Jones, Dana Husted, Jay Prescott, Eugene Friar, and so many more have said, "we can learn this and make it happen on our campus."
How has college esports changed since you started? Where will college esports be in five years?
In the next five years we will see the singularity with football. At the time of this writing, there are approx 880 of the 1300+ College programs in NCAA, NAIA, and USCAA. Around 400 colleges have either fully committed to official esports programs or are on the cusp. Those numbers will cross. Football will always be the #1 draw, but more schools will compete in esports. HBCUs will likely bring in all 107 schools shortly with leadership like Dr. Mark Williams at Florida Memorial University. 
What advice do you have for school administrators that would like to start an esports program at their school? How can they get the support they need to create a quality college esports program?
I don't feel like I have the experience yet to offer hard and fast advice on the "how" yet. I'm still learning.  But, I would suggest finding and studying everything that the above-mentioned stars and all the other generous program leaders have made available.  Amazing program leaders like Shaun Byrne, Michael Jones, Kevin Reape, Dana Hustedt all share their amazing thoughts. Plug into a professional org like NACE for your school and get your leaders in NAECAD. These groups scaffold the learning and give schools a HUGE head start. 
I would also encourage all schools looking to start esports programs to truly invest for the long term. Make an experienced coach/director a better offer, the investment in their knowledge and experience is a fraction of the time and money you'll spend learning those lessons on your own.
Thanks for taking the time, Doc! Be sure to visit Boise State's esports page to learn more.
Looking to start your own esports program at your university? Reach out!
To stay up to date with all of our esports content and news, click here to subscribe to our Esports Newsletter.