How Esports Works at the Collegiate Level
Written By: Hauk Nelson
To stay up to date with all of our esports content and news, click here to subscribe to our Esports Newsletter.
Following the pathway of traditional sports, many schools have started to develop their own esports programs. Organizations such as NACE have been formed to organize and structure collegiate esports competitions. Universities are building esports arenas and recruiting talent from all over the world to compete at their schools.
The first varsity esports program was created by Robert Morris University in 2014. Starting with League of Legends, the Chicago university recruited some of the best young talent at the time. Multiple players would go on to compete in the LCS or Academy teams. Esports scholarships have been on the rise ever since – nearly 200 schools awarded around $15 million in scholarships in 2019.
Despite this rise in collegiate esports, no two programs are alike. Some schools invest heavily into training facilities, coaching staff and equipment under a varsity program. Other schools view esports more as a community to be led under student life. No matter the goal, schools want to capitalize on the next generation of sports as new students reach higher education.
Students
As might be expected, college students that participate in esports aren't typical students. According to a survey by Midgame, an esports analytics software company, over 50% of students involved in their school's esports programs study a STEM field. The National Center for Education Statistics, part of the Department of Education, reported that roughly 18% of college students studied STEM fields in the 2015-2016 school year. 
Unsurprisingly, 81% of students are motivated to participate in collegiate esports because they get to play their favorite games. However, this is quickly followed by both a drive to compete, as well as motivation to connect with other students. Long gone are the days of gaming as a solo activity. Today, gaming is a central part of many students' social lives. Esports serves as both a way to make friends as well as satisfy a competitive streak.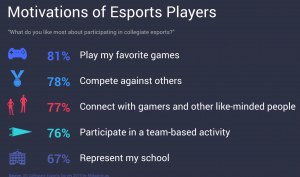 Games
Team games lead the way for top competitive titles of esports programs. Riot Games, creators of League of Legends, created a nationwide circuit for their competitions. 354 schools competed in Riot's 2019 season. Other common games that schools support are Overwatch and Rocket League.
Similar to issues we've outlined in the past, most schools are not supportive of many of the leading esports titles due to violence. Esports titles such as Rainbow Six Siege, CSGO and Call of Duty are often out of the question. Most schools don't want to be associated with any sort of firearm usage depicted in first person shooter titles such as these. 
Valorant, the newest title from Riot Games, will be a telling moment for collegiate esports. Though a shooting game, Riot has mandated that all esports competitions turn off all blood and graphic settings. Riot has built a strong reputation for creating a large collegiate League of Legends scene, though it's not yet clear how schools will react to student Valorant teams. Read more about Valorant here. 
Athletics or Student Life?
As more schools look to bring esports under their athletic departments, some students have pushed back. While more school support means more resources, it can also bring more challenges. A grassroots, community driven school club can be quickly stifled by the bureaucracy of a university. The DIY nature of many esports clubs may clash with the process and organization of a school.
However, if done properly, an esports program can flourish under a school's guidance. Harrisburg University, based in Pennsylvania, offers no varsity sports. In 2018, Harrisburg created its first varsity sports team – its esports program. Headed by Chad Smeltz, a former manager of an LCS team, Harrisburg competes as the Harrisburg Storm. HU fields leading teams in League of Legends and Overwatch, and even has former professional players as coaches. If schools hire experienced esports professionals to lead their esports programs, their college programs will thrive.
Competitions
Many game developers, like Riot Games, have created collegiate leagues for their own games. Activision Blizzard, which publishes Overwatch, Hearthstone and more, facilitates competitions through TESPA. There are also multiple third party tournament organizers, such as Collegiate Star League, hosting competitions in a variety of games, often for scholarship prizes.
Many schools are starting to host their own competitions. Earlier this year, our hometown schools of DePaul University and Robert Morris University hosted the State Street Showdown. The two Chicago universities competed in multiple esports titles like League of Legends and Rocket League. Universities hosting their own esports competitions helps build community and friendly rivalries between schools.
What's Next for College Esports?
As more schools get involved, collegiate esports will become a pipeline for the next generation of esports talent. For many, collegiate esports are the first time these student athletes are on organized teams. The pipeline from little league to high school to college to the big leagues isn't there yet. These schools will help esports athletes develop into quality teammates and leaders to participate in the LCS, OWL and other professional esports leagues.
Collegiate esports also serves as an opportunity to develop the next generation of esports professionals. Participating in a school's esports club or team offers the chance to hone skills in marketing, graphic design, coaching and more. Today's college team managers will become the GMs for the likes of Cloud 9, TSM and more.
Are you interested in starting an esports program at your school? Comments or questions? Reach out!