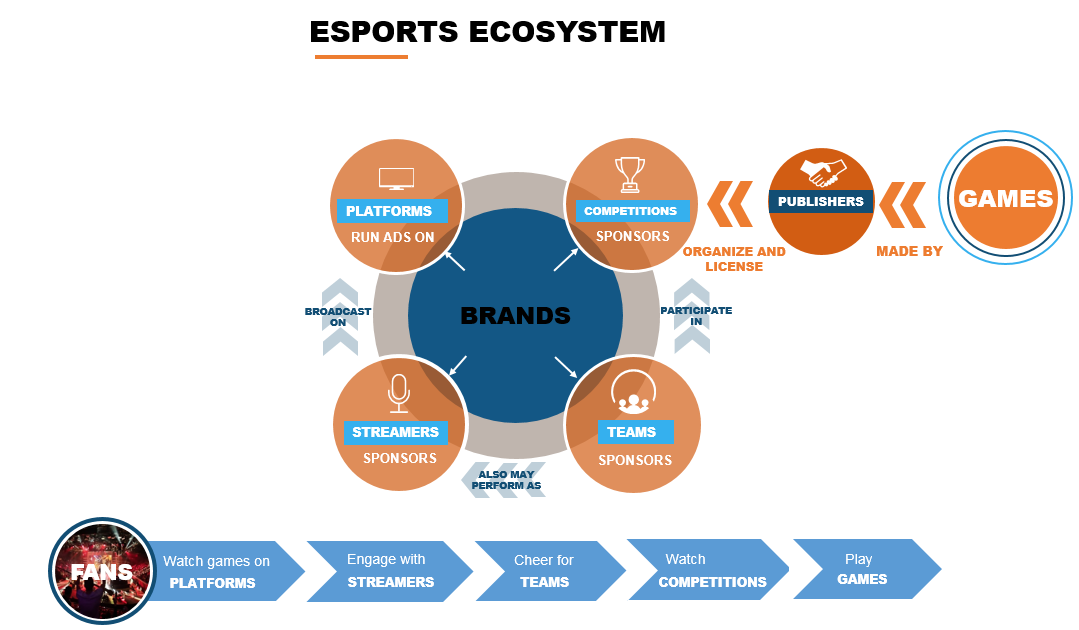 The Esports Ecosystem Part 4: Streamers
Written By: Hauk Nelson
To stay up to date with all of our esports content and news, click here to subscribe to our Esports Newsletter.
This article is the fourth in a series designed to educate on the many parts of the esports ecosystem. This article will cover streamers. For the third article, covering esports teams, click here. To start at the beginning of this series, with esports platforms, click here. 
Perhaps the only thing bigger than esports in the gaming space at the moment is streamers, people who broadcast themselves playing video games online. These streamers broadcast on platforms like Twitch, Mixer and YouTube to millions of fans. Some are former esports pros or are currently competing; others are simply skilled entertainers. Fans tune in to watch the top streamers play their favorite games, and increasingly, just to chat. 
While esports competitions are also watched on Twitch, the majority of content watched on these platforms consists of streamers. There are streamers like Voyboy, a former professional League of Legends player, who focuses primarily on League while occasionally playing other titles. Others focus on certain genres or are variety streamers, playing whichever game is most popular or relevant to them at the time. 
Along with playing the newest, most popular releases, fans tune in to interact with streamers. Most streaming platforms offer a chat, where the audience can interact with one another and the streamer in real time as they're broadcasting. Fans can comment on the action, make fun of a play gone wrong and ask the streamer questions as they stream. Streamers provide tips, answer personal questions and connect with their fans live, providing unprecedented levels of engagement with their community. 
Streamers can be thought of as the taste makers and influencers within the gaming community. The best example of this is the release of Apex Legends in early 2019. Eschewing traditional marketing, publisher Electronic Arts decided instead to focus on using streamers to promote the new game. 
As a new game entering the Battle Royale space (dominated by Fortnite), EA targeted Fortnite streamers and paid them to stream Apex Legends on its release. Ninja, a famous Fortnite streamer, was reportedly paid $1 million to play Apex Legends on release. The strategy worked – a month after its release, the game had amassed 50 million players. 
Many developers have partnered with streamers for the release of new content for their games. Riot Games, creators of League of Legends and Teamfight Tactics, partnered with streamers to highlight new content being released for Teamfight Tactics, letting each streamer unveil new characters. Streamers can serve to promote new content, but also as a lever to retain players in between content cycles, making them important to any developer. 
The power of streamers as influencers extends beyond games to non-endemic brands as well. Many streamers are sponsored by brands such as DoorDash, Red Bull, Venmo and others looking to reach a younger audience. Ninja even sells his headbands at Walmart. 
Streamers make money through not only sponsorship, but also through the platforms themselves. Twitch, YouTube, Mixer and others offer subscriptions to streamers, often at the price point of $5/month. Subscribers get access to exclusive emojis to use in the chat, and increasingly, access to exclusive content and giveaways. Streamers earn half of this, and get better cuts of the subscription fee as they get more popular.
Streaming is not without its challenges, though. As it is a live feed, there is the concern of someone making a gaffe live, such as swearing or other inappropriate content. Streamers must balance the line between being engaging, treating their viewers as friends in a casual manner, and not speaking in a way that would offend an audience or their sponsors. Should a streamer mess up, they could lose fans, sponsorship deals or even be banned from the streaming platform. 
For brands looking to enter esports and gaming, streamers offer unparalleled engagement. No other platform lets fans interact with their idols in real time, using gaming and other mediums (chatting, music, art) to directly connect and relate. The opportunity for brands lies in identifying streamers who can authentically promote their product.