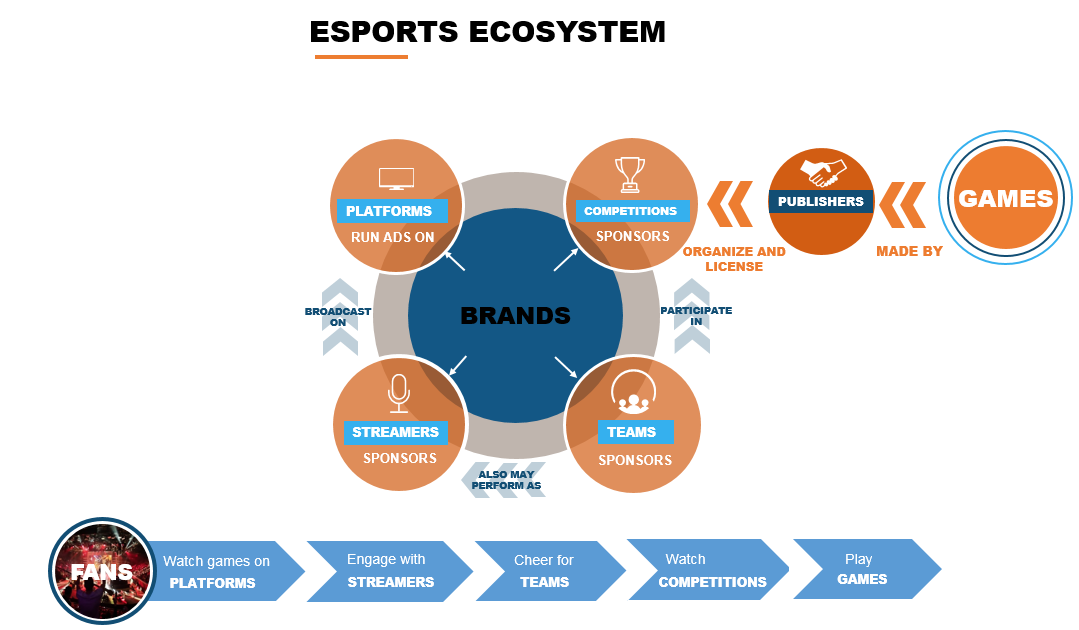 The Esports Ecosystem Part 3: Esports Teams
Written By: Hauk Nelson
To stay up to date with all of our esports content and news, click here to subscribe to our Esports Newsletter.
This article is the third in a series designed to educate on the many parts of the esports ecosystem. This article will cover esports teams that compete in tournaments that fans watch. For the second article, covering esports competitions , click here
Esports teams around the world are raising capital at a breakneck pace. 100 Thieves recently raised $35 million and has investors from a variety of industries, ranging from Dan Gilbert (Cleveland Cavaliers) to Toronto rapper Drake. The opportunity is clear – get in on the ground floor of what could be the next Yankees or Cowboys. Valuations of esports teams have skyrocketed, with American based Cloud 9 estimated to be worth $310 million according to a 2018 Forbes article. 
(source: Forbes)
At its simplest, esports organizations, also known as orgs, field players to compete in competitive games and esports, and to stream online on Twitch and other platforms. Orgs pay a salary to players and often times more, including housing and food, and in return make money through sponsorship and merchandise sales. Perhaps the largest difference between esports organizations and traditional sports comes from branding – while a sports franchise such as the New York Yankees will only have its baseball team, an esports org such as Team Liquid fields competitors in over a dozen different games. Imagine if the Yankees had both a baseball and a basketball team competing under the same name in their respective leagues. This creates an opportunity for esports organizations to extend their brand reach to a variety of gamers, but also challenges for teams that lack a clear brand focus.
Esports organizations have positioned themselves in a variety of ways to create value for themselves, their investors and perhaps most importantly, their fans. Some focus on competitive success, others dive deep into a certain genre of game or emphasize a home city. While many orgs struggle to find a clear voice, 100 Thieves currently has the strongest positioning of any esports org, focusing on apparel and CEO Matthew "Nadeshot" Haag, creating a lifestyle brand around gaming and esports. 100 Thieves merchandise "drops" routinely sell out within minutes. 
Along with apparel, sponsorships make up the majority of an esports organization's revenue. This often includes patches on jerseys, branded content and social media posts. However, nearly every esports team is running at a deficit. Operational costs continue to escalate, from player salaries to staff (coaches, analysts, managers, talent scouts), gaming houses and facilities, travel, marketing, content and more. 
A major cost for esports teams has been franchising fees to participate in franchised leagues run by the developers of top games such as League of Legends and Overwatch. These leagues offer the highest level of competition, as well as security for teams that may have an off year competitively. This allows teams to invest in developing new talent and to sign multiyear contracts with sponsors. Some franchises include a revenue sharing model based on the sale of league sponsorships and media rights, but come at a steep price. Franchise fees for the upcoming Call of Duty league are estimated to be around $25 million.  You can read more about esports competitions and franchising here.
Moving forward, teams will have to find more ways to differentiate themselves in order to obtain valuable sponsorships. A team such as the Dallas Fuel and sister teams Dallas Empire and Envy Gaming will have to activate locally within the Dallas area to build a loyal fandom, through partnerships with universities, high schools and more. 100 Thieves will have to continually innovate within apparel and entertainment to maintain its status, and we'll likely see some brands fade into obscurity. For brands looking to get into esports, the opportunity lies in finding the right partners that have a clear vision for building a long term fandom within the esports ecosystem.